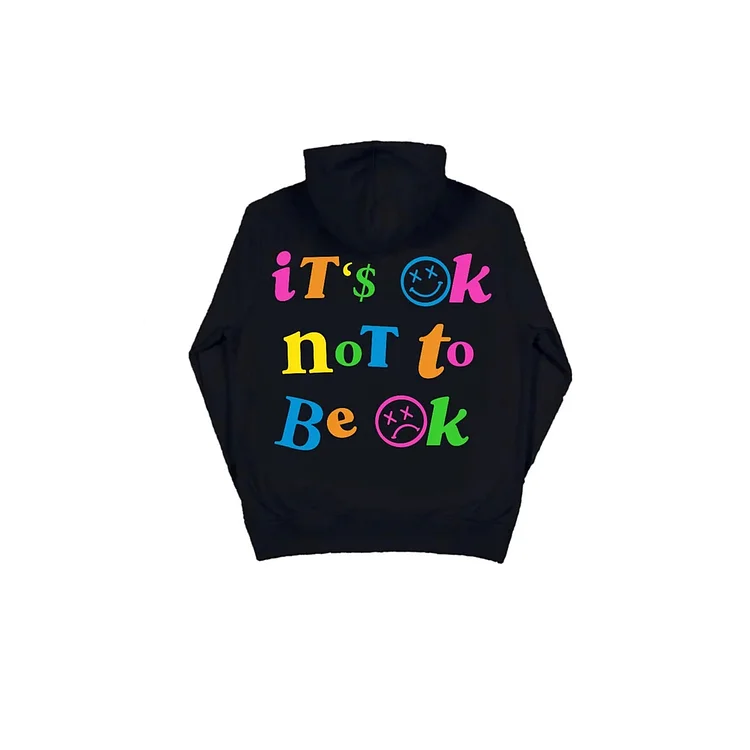 Lalren was created for you. We know how lonely your Mental Health Journey can be, so we decided to do something about that. Lalren serves as a reminder that there is light at the end of every tunnel. But until you complete that journey:
It's Ok Not To Be OK
Lalren is a community. A community grounded in strength and perseverance. Positivity and Hope. With this hoodie, we will always have your back. Spread the message and be the change you wish to see in the world!
SHOP WHILE SUPPLIES LAST!
All Lalren Hoodies are:
Pre-shrunk. True to size fit.

Made in the USA

Premium quality garments and high quality garment

Made from 80% Cotton + 20% Polyester. This blend maximizes both comfort and durability.
We are back in stock and will ship in 1-2 business days!
Please refer to our FAQs tab for any questions regarding refunds, shipping, and more!
Size Chart(Hoodie & Sweatshirt):
Size
Shoulder
Bust
Length
Sleeve
cm
inch
cm
inch
cm
inch
cm
inch
S
55
21.5
110
42.9
66
25.7
50
19.5
M
56
21.8
115
44.9
68
26.5
52
20.3
L
57
22.2
120
46.8
70
27.3
54
21.1
XL
58
22.6
125
48.8
72
28.1
56
21.8
2XL
59
23.0
130
50.7
74
28.9
58
22.6
3XL
60
23.4
135
52.7
76
29.6
60
23.4
Due to manual measurement, there may be an error of 1-3cm
Size Chart(T-Shirt):
Size
Shoulder
Bust
Length
Sleeve
cm
inch
cm
inch
cm
inch
cm
inch
S
39
15.2
93
36.3
64
25.0
19
7.4
M
40
15.6
98
38.2
66
25.7
19
7.4
L
41
16.0
103
40.2
68
26.5
20
7.8
XL
42.5
16.6
108
42.1
70
27.3
20
7.8
2XL
44
17.2
113
44.1
72
28.1
21
8.2
3XL
45.5
17.7
118
46.0
74
28.9
21
8.2
4XL
47
18.3
123
48.0
76
29.6
22
8.6
5XL
48.5
18.9
128
49.9
78
30.4
22
8.6
Due to manual measurement, there may be an error of 1-3cm
How To Choose Your Size?
Don't know your size? Our size guide will help you find the suitable size!
1.Where is the size reference displayed?
Just click on the "Size Reference" button on each product page to find out the measurements which you can view in centimeters and inches, as well as instructions on how to measure to ensure it fits perfectly.
2.HOW TO CHOOSE YOUR SIZE ?
Take your measurements using a tape measure, then refer to our size guide.
WAIST : Measure form the end of the shoulder down to the wrist.
HIP : Measure around the fullest part of your hips. Leave enough room to move comfortably.
A.

Measure around the base of your own neck,keeping two fingers between your neck and the tape measure.




B.

Measure from the end of the shoulder and down to preferred length.




C.

Measure around yourchest.




D.

Measure around the fullest part of your waist.




E.

Measure from the crotch down to the desired leg length.
3.General standard grading for Numeric Sizes:
Size 00-10: 1" all around circumference (e.g.: Between a size 2 and 4, the bust, waist, and hips measurements will each increase 1" in circumference)

Size 10 and up: 1.5" all around circumference between sizes
General standard grading for Letter Sizes:
Size S – L: 2" all around circumference between sizes

Size L and up: 3" all around circumference between sizes
Letter sizes are usually meant to cover a wide range of sizes, for example:
XS = 0-2 , S = 4-6 , M = 8-10 , L = 10-12
4.To decide which method will work best for your product consider the following:
Style and fit – T-shirts, sweatshirts, hoodies, pajamas or even overcoats etc. usually have a looser, more relaxing fit which is why the majority of these styles have letter sizes. Fitted dress pants, a fitted button down shirt or dresses have more importance placed on fit and therefore you want less grading differences between sizes.

Fabric – Depending on the amount of stretch, styles made in a stretch fabric, such as active or performance wear, you might choose to run letter sizes. The same might go for really heavy fabrics such as a coat fabric where 1" grading might not make as much of a difference.

Look – Letter sizing is often most appropriate for and best fits the definition of casual wear, whereas dressier and formal wear that uses number sizing is often perceived as higher end due to its higher fit standards and quality.
Note: There is different size chart in each product, please go to product page to find the size chart.